Photo Book Inspiration
CEWE PHOTOBOOK: Africa, a childhood dream
With thousands of photos to organise, blogger Nic Hildebrandt shows us how to preserve the best memories of a once-in-a-lifetime family trip for years to come.
When I think about what prevented me over the past few years from finally tackling my photo book project, the answer is quite simply: myself! I have always let my own perfectionism get in my way, as I'm a person with a great love of detail and a soft spot for harmonious design, and I hold these things to quite a high standard.
As the author of this column, with the stated goal of creating a CEWE PHOTOBOOK, I could no longer shirk this task, and as is the case with most creative people it turns out I work best under pressure. Eureka!
Photos for the whole family
Ever since our family safari through Tanzania in the summer of 2014, it became clear to me that if I ever managed to create a photo book, then this travel story would be the first that I publish! Rarely has a trip touched our hearts as much as this one did; being able to see wild animals up close and personal in their natural environment was a real treat. My husband, my daughter and I will probably never forget the first animal encounters of this trip. For me personally, it was as if a childhood dream had come true; ever since I had watched all of Bernhard Grzimek's animal programs on television with my grandfather in the 1970s, I wanted to see the Serengeti with my own eyes at some point.
When I finally got there, I shed tears more than once because I was so overwhelmed. The desire to immortalise this journey in a book, to leaf through it again and again and to reminisce together, naturally grew as the experience went on.
Sort photos by experience
Usually after our trips, my family complains that they only get to see the photos that I take – admittedly by the thousands – so much later. That's because of the long process that starts with the viewing and sorting of the many, many pictures taken along the way.
I try to be consistent in my approach and to tackle this point as soon as possible when we return home. Most of the double and triple photos that I take go quickly and without batting an eyelid into the virtual trash can. You don't have to keep ten pictures of the same situation and so I always decisively pick the best ones to keep.
Likewise, all blurred images or other low quality snapshots must go, unless by chance there happens to be an image among them that somehow has special artistic potential.
All of this takes a lot of time and is really hard work. That's why I do it as soon as possible after the trip, before procrastination sets in!
Organisation helps: the blogger archive
Thankfully, as a blogger I'm forced to keep my photo archive in order. Otherwise, my data storage services would burst at the seams every few weeks. Of course, I always keep an eye on which pictures might end up in a blog post at some point. This same principle was very helpful to me when choosing images for my first photo book: always considering which photos have the potential for more and which could be suitable for nice storytelling and narrative in the book format.
I often copy the images into subfolders while viewing them and save them for later blog stories. As such, the fact that I had already published all the safari photos in travel blogs gave me a clear advantage in preparing the Africa photo book. All the pictures had already been edited by this point, optimised to my liking with image-editing software, so I was able to get started right away. In retrospect, considering the processes I was already using for my blogging, it makes even less sense as to why I put off this project for so long.
CEWE Creator Software: getting started is easy
I admit, before getting started I actually found myself a little bit fearful of the CEWE Creator Software, which is actually really funny when you consider that the digital world really is a comfortable space for me. In the end, as would be expected, the Creator Software was very simple once I got out of my own head, sat down with it, and let myself tinker a bit. Funny how the mind sometimes makes up a few excuses beforehand, right?
Let the pictures determine the book format
It was amazingly easy for me to decide on a photo book format and paper type when I finally sat on the PC with the program open. After a short look at the various possibilities, the layout was also determined very quickly.
Since I mainly shot landscape photos on our safari trip through the national parks of Tanzania, I chose the Large Landscape CEWE PHOTOBOOK. I also love the effect of printing on matte paper, I think it give books a wonderful feel and a high-quality, elegant look - so my choice for the book's pages was True Matte paper.
Great feelings – great photos
I decided relatively quickly to leave the background purely white and to use at most four photos for the layout of a double page, often with only just one image per page. I just wanted to give the powerful photos space to tell their story. After all, I associate emotions with them and they don't happen in small formats. Great feelings – great photos, you could say!
Perfectionist looking for the right typeface
I largely avoided text. I really think I otherwise would have gotten bogged down in pages and pages of sentimentality and superlatives. For this project I instead spent a really long time selecting the right fonts for my fewer bits of writing. I invested a lot of time in the few written lines, which are actually only references to the respective places to which the following photos take the viewer.
Yes, the perfectionist in me came through again. I can dwell for an incredibly long time on such small details, but for me the shape of the two fonts used should fit the destination perfectly. Maybe it's a little bit crazy, but I can't help it!
Tears of joy: the book is here!
To be honest, when I clicked "Buy now" my heart was beating fast. I packed a piece of our life and a lot of precious memories into a 102-page book – and with it a lot of passion.
When it finally arrived in its physical printed form, I was so nervous that I just unpacked it, laid it down and looked at it from the outside for hours. When I leafed through it for the first time, I had a lump in my throat and a tears in my eyes, it was just so beautiful! A wonderful piece of our precious travel memories.
Needless to say, at that moment I understood even less why I had taken so long with my first photo book. And that was also the moment when we decided that this should be the beginning of a wonderful travel book collection!
Unreally beautiful
My loved ones' reactions to the Tanzania book was just as touchy-feely. My daughter said, "It all seems so unreal to me. It's so beautiful, I can't believe we actually went there!" Yes, we did, honey!
And there were laughs, too, when she turned to a very specific page that had a large-format photo of a vervet monkey in a very prominent pose. We met the monkey at a picnic on the Tarangire River, and learned that it is also called the "Blue Balls Monkey". Just Google the species and you'll see why we found it so amusing.
The next photo book is in the works
Our Tanzania photo book can now be found next to the biography of one of my childhood idols: Bernhard Grzimek. There it lies waiting for company. And having completed it I now know that the next book won't take me ages to make. To be precise, it is already in preparation! Eureka!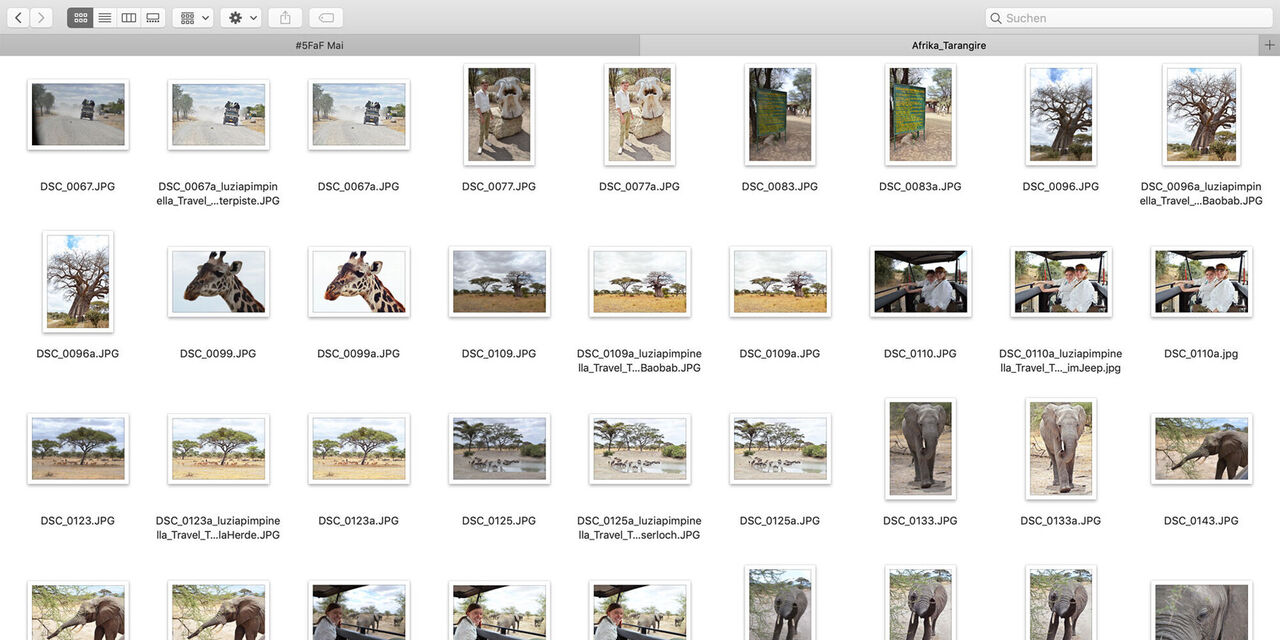 Act fast for fulfilling filing
It is best for me to sort out the amount of holiday photos immediately after the trip and arrange them in my personal filing system before the evil procrastination sets in.
NEXT TIP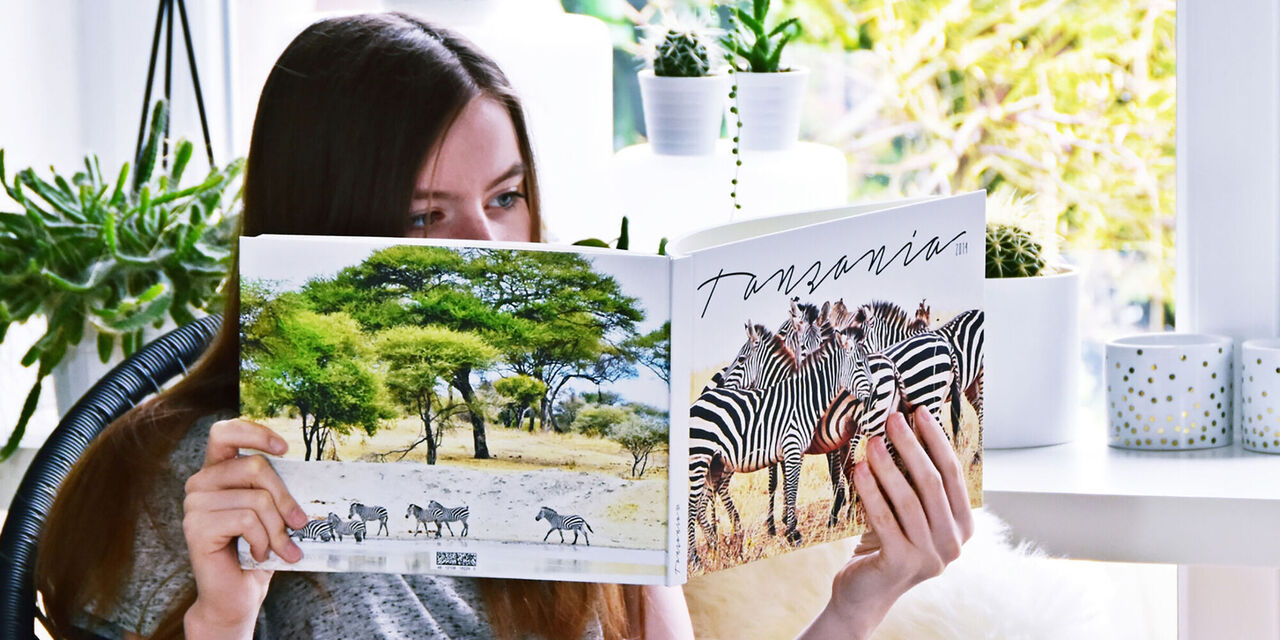 Get out of your head and onto the page
When it comes to designing the photo book, you sometimes have to overcome your own perfectionism and just do it! I'm having a hard time with this myself, but insight is the first step to improvement!
NEXT TIP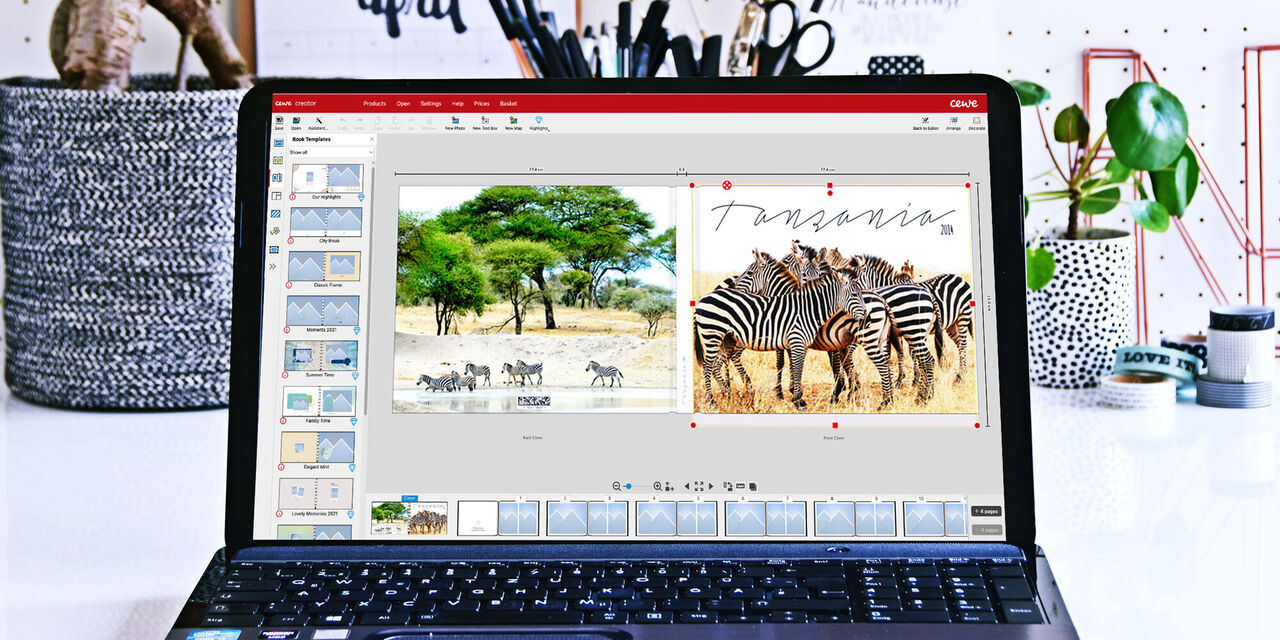 The photos determine the format
For me, the format of the photo book has to match the photos. If I have mostly landscape photos in a series, I also choose a book in landscape format. This allows the images to develop their full effect.
NEXT TIP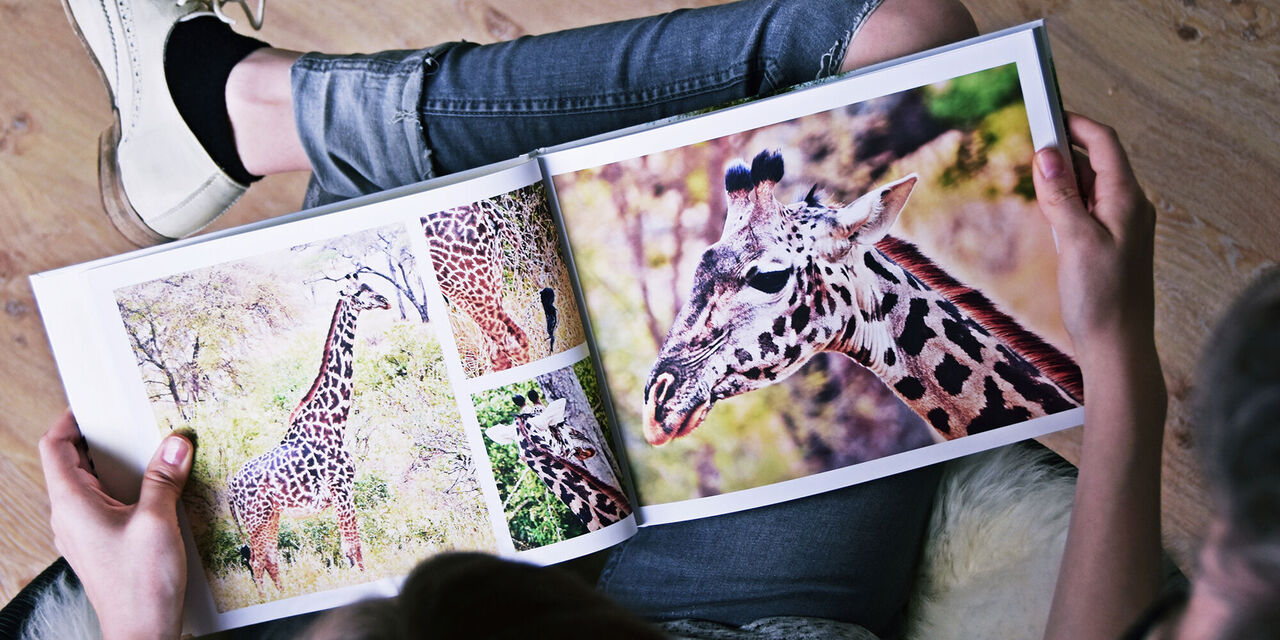 Structure your photos carefully
Feel free to give photos extra space, and know that some images need a whole page to themselves to maximise their impact. Less is often more! I prefer clear structures, simple backgrounds and a very limited number of double-page photos. Don't squeeze as many photos as possible into the layout.
NEXT TIP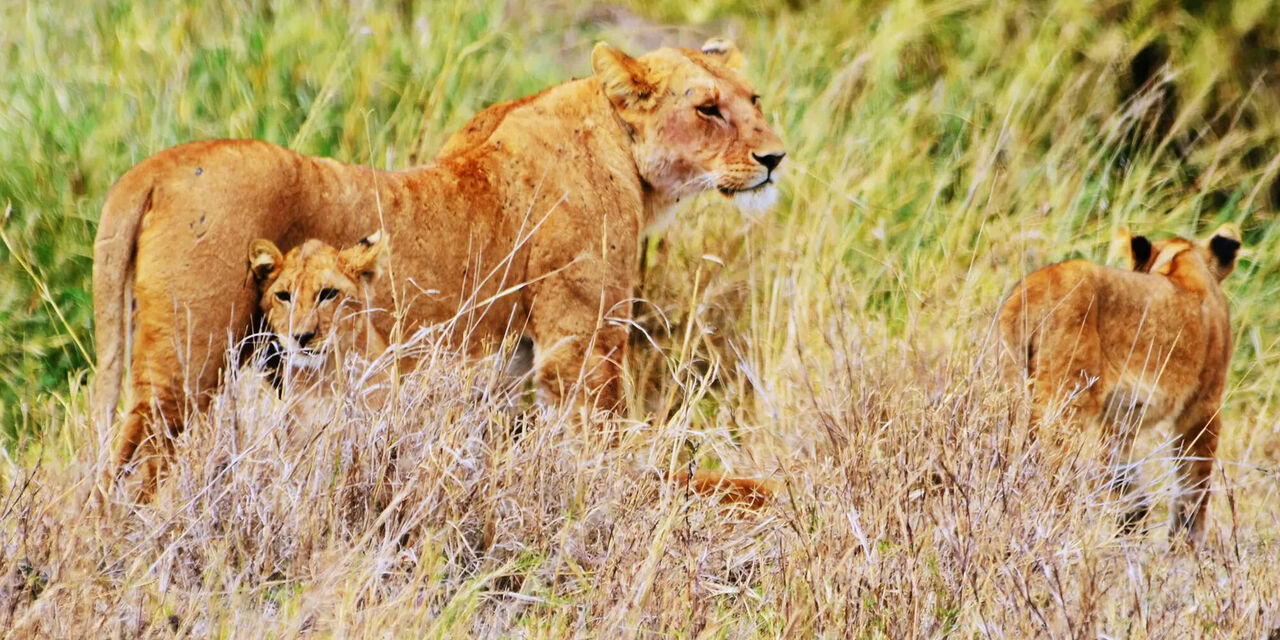 Don't over-process your pictures
Since I am using photos that have already been edited for the photo book, I have to remember to switch off the automatic image optimization in the CEWE PHOTOBOOK software settings. Unfortunately, doubling up on image processing usually does not give a nice print result.
Inspired by Nic's story? Create a travel photo book of your own today.